About The Project
After realizing the pattern of success among most projects who have vested their tokens, new project founders are appreciating the importance of locked-up tokens. Similarly, Ekoios has been one of the most popular blockchain development companies that have been delivering white-label vesting portals for blue-chip DAOs and DeFi projects.
These white-label vesting portals give a project the ability to oversee their locked-up tokens themselves. In this article, we will narrate the case study of one of our just concluded projects – Age of Gods.
About The Clients
The background of Age of Gods is an adventure-filled interactive game where players can earn NFTs and AOG tokens when they play. The best-in-class game was built by team members who have worked in reputable places like 20th Century Fox, Disney, and Amazon.
Here is a thorough walk-through of how we built their vesting portal.
The Challenges
Nick approached us that he needed Ekoios to "build a battle-proven vesting solution" that would help their Initial DEX Offering. He emphasized that they wanted to provide their investors with the peace of mind that tokens are being distributed fairly and on time.
During the consultation, he also highlighted his fear that the success and efficiency of the vesting portal were dear to them because it might hurt their overall credibility if there were any issues.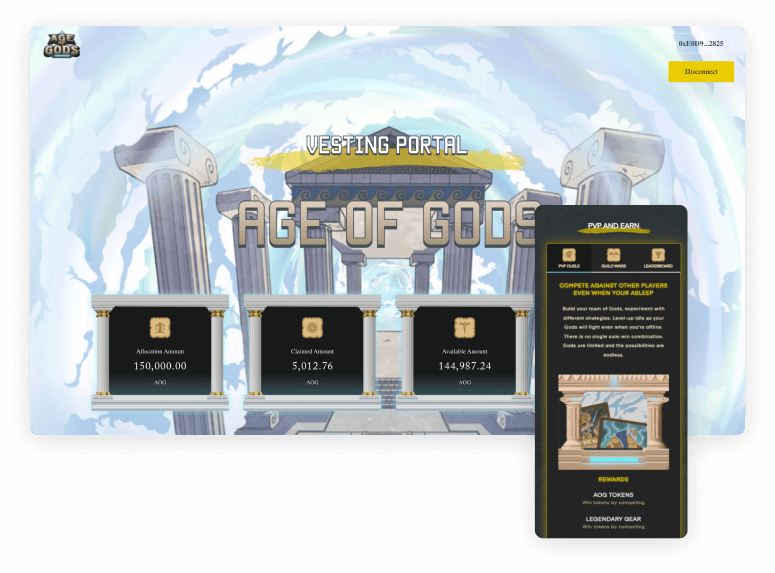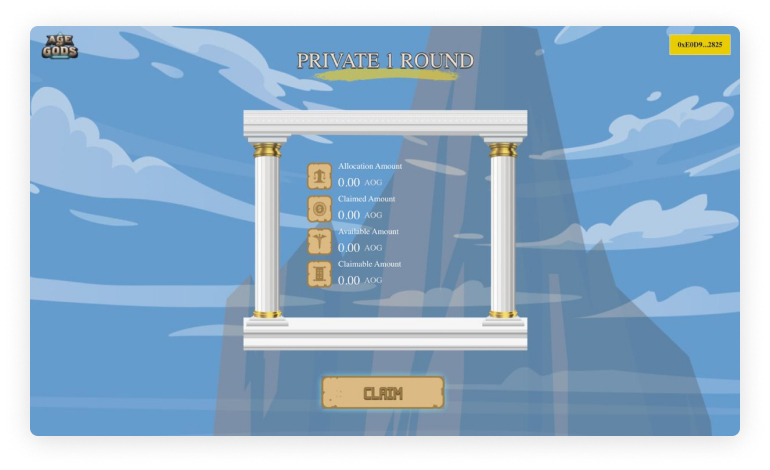 The Solutions
First, we built the Age of Gods' vesting portal in a way that it would fit into their website. That is, we customize the background, font type, font size, color choice, and paper-like button outlooks to be consistent with their branding.
Secondly, we uploaded the database of the vested members into the smart contract. We put a security check here such that anyone who was not vested cannot connect his or her wallet.
On a similar note, we made private high-level security moves to checkmate possible manipulations. When we were done, we tested our codes on the testnets to look for any loopholes.
We also considered the ease of use during the deployment. The investors only need to take three steps to claim their vested tokens when it is time:
Connect their wallets
Select the accurate vesting schedule
Claim their tokens
The Results
When we deployed the vesting portal within a week. It helped Age of Gods to manage 48 million tokens and 10,000 wallets with a transaction throughput of 3 to 5 seconds.
Nick was so impressed with the delivery that he already recommended the Ekoios vesting tool for other clients. Appreciating Ekoios's relentless efforts to meet the constant adjustment requirements, even last-minute ones, Nick said:
"The Ekoios team responds very rapidly and most importantly does not complain. It goes a long way to have a team on your side that works with you and helps with challenges that come up…".
Click here to learn more about our white-label vesting solution.