Software
Table of Contents
1

THE BENEFITS OF OUTSOURCING SOFTWARE DEVELOPMENT PROJECTS TO VIETNAM

2

CHOOSE EKOIOS TECHNOLOGY – YOUR TRUSTED SOFTWARE DEVELOPMENT PARTNER
In the recent years, Vietnam has become an emerging market for software development outsourcing in the global tech community. Competitive outsourcing costs combined with highly skilled IT workforce and top tech talents make Vietnam an attractive choice for companies that are looking to outsource their software and mobile application development projects.
In addition, prominent US tech companies such as Intel, IBM, and Microsoft etc. have been actively and continuing investing in Vietnam. Many tech companies from other developed countries such as Japan or Australia have already set up offices and hiring software developers to work on their projects in Vietnam in the past few years. The trend is becoming more and more popular.
THE BENEFITS OF OUTSOURCING SOFTWARE DEVELOPMENT PROJECTS TO VIETNAM
Vietnam joins the Global IT Workforce
Today, Vietnam is developing at a lightning speed, and this has resulted in a surge of innovative experts in different industries, among which IT professionals really stood out. In 2017, Vietnam has jumped five places to rank sixth in Global Software Outsourcing industry according to the Global Services Location Index (GSLI) released by management consulting firm A.T. Kearney – and has subsequently moving up jumping to the fifth place in the same A.T.Kearney's 2019 Global Services Location Index.
While Vietnam software developers have achieved great results and are getting recognized around the world for their high-quality work and creative ideas, the economy in Vietnam is still at the developing stage and playing catch up with other developed countries. This particularly makes hiring software developers in Vietnam extremely beneficial: On-shore tech companies receive high-quality IT works at a price that is much lower than the average rates in their own countries.
And reasonable rates are not the only noticeable benefit that entices companies to outsource their business to Vietnam. Here are other reasons to outsource to Vietnamese software companies:
1. Young, dynamic and well-educated workforce
Many developed countries have been suffering from the problem of tech talent shortage for quite a while now. By contrast, Vietnam is now going in the opposite direction — the number of talented IT developers has been constantly growing. Tech corporations can benefit from these tendencies — by choosing skilled software developers from the vast tech talent pool in Vietnam and cooperate with them through the extended team model.
2. High-Quality Technical Education
The quality of technical education at as well as self-studying and research is getting higher and higher at Vietnamese universities day by day. Education is one of the main reasons Vietnamese tech workers rank among the best software developers in the world.
3. Convenient Travel Location
The time difference between Vietnam and other Asian countries is one to a few hours on average, which is practically negligible for efficient daily communication. Moreover, traveling within Asia is very convenient, as you can reach most Asian tech hubs within a couple of hours from Ha Noi City.
There are also direct connecting flights with major European and US cities available throughout the day. Although travel time takes obviously longer, a maximum time difference of below 24 hours still makes it possible to set up efficient cooperation with the help of daily sync-ups and flexible working hours.
4. Cutting-edge technologies 
Vietnamese tech workers always keep up to date with the newest technology including Blockchain, Internet of Thing (IoT), Machine Learning, Cloud Computing etc. and are not afraid of new challenges. Furthermore, Vietnamese developers possess strong technical skills as well as hands-on experience working with complicated large-scale IT projects that are being used by millions of people worldwide.
5. English & Japanese Proficiency
According to EF Education, Vietnam ranks 29th on EF Education First's English Proficiency Index overall, ranking at 5th place among Asian countries. Educational institutions in Vietnam have also been implementing teaching English as a second language on campus (rather than just a foreign language). This will definitely help increase student mobility and international workforce collaborations.
Also, the number of Vietnamese learning Japanese and those wishing to learn the language has been increasing. According to the results for the Japanese Language Proficiency Test for 2017, 71,242 people took the exam in Vietnam, the most in Southeast Asia, which shows a dramatic increase of nearly five times the 14,317 people who took the test in 2011.
English and Japanese skills among Vietnamese IT professionals are usually higher than the country's average. This, and many other factors, undeniably makes Vietnam one of the leading IT outsourcing destinations worldwide.
CHOOSE EKOIOS TECHNOLOGY – YOUR TRUSTED SOFTWARE DEVELOPMENT PARTNER
When it comes to choosing vendor and hiring candidates, there are many factors a company need to carefully consider before making the final decision, including: the specific business requirements, the technologies, the desired skills of developers, the operation cost etc.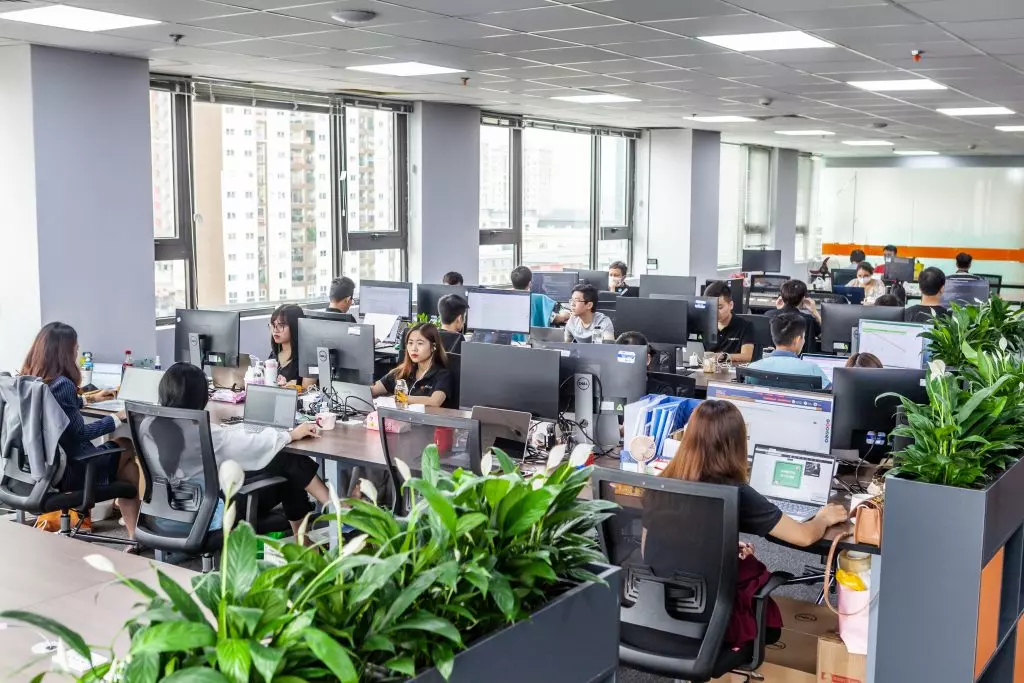 Our team is here and ready to provide you with top software engineering talents in Ha Noi City, the Silicon Valley of Vietnam. We also have representative offices in the United States and Japan to provide seamless support for our clients.
Ekoios Technology is currently among the most accomplished in the industry, who are former co-founders and experts of leading IT corporates in Viet Nam. With our deep experience in many tech fields (especially in Blockchain and AI) and team of highly skilled software developers on board, we possess the expertise needed to turn your idea into reality and provide you with 24/7 support during the process, ensuring the highest quality at a very affordable cost.
Read more: How to succeed in Software Outsourcing
For more information, please contact us!
Get the best insights to your inbox
Sign up today and we will email you the latest articles every week
I would like to receive communications about Ekoios tailored to my interests and preferences, including latest news about products, services, events and promotions. For more information, please see our
Privacy Policy
.
Get the best insights to your inbox
Sign up today and we will email you the latest articles every week
I would like to receive communications about Ekoios tailored to my interests and preferences, including latest news about products, services, events and promotions. For more information, please see our
Privacy Policy
.
Table of Contents
1

THE BENEFITS OF OUTSOURCING SOFTWARE DEVELOPMENT PROJECTS TO VIETNAM

2

CHOOSE EKOIOS TECHNOLOGY – YOUR TRUSTED SOFTWARE DEVELOPMENT PARTNER